This year, The Bowdashes were selected by ORA to be part of the EXCITE project. The dynamic Danish duo have since earned their stars with great performances at SPOT Festival and Live at Heart. Their forthcoming album is scheduled to be released in the beginning of 2020.


The pounding beats, the gritty guitar, and the dark, somber vocals of The Bowdashes, consisting of Nana Nørgaard and Linn Holm, tear at the heartstrings and make a lasting impression. Since the release of their 2017 EP Marrow, they've been turning heads on the Danish indie-rock scene.
As part of the EXCITE project 2019, The Bowdashes played showcases at SPOT Festival and Live at Heart, two of Scandinavia's most important scenes for the international music industry.
Here, we talk to The Bowdashes about their involvement with EXCITE as well as the road ahead. Nana and Linn usually agree on most things, and like the intermingling of guitar, autoharp and vocals in their music, they speak as one – in this article at least.


SPOT Festival and Grandeur on the radio
Late arrivals to the SPOT venue would find the place jam-packed, but one of the people who made it inside was David Fricke. He had this to say about The Bowdashes:
"The Bowdashes were the first band I saw on my Saturday afternoon at Spot 2019 in Aarhus. It was a perfect introduction: a driving folk-rock intrigue, illuminated by country-gothic autoharp and the silvery vocal rain of Nana Nørgaard and Linn Holm, as if the Cure and Fairport Convention had landed in Denmark together from 1967 San Francisco – and sounding right on time." David Fricke, Rolling Stone.
The brimming venue was all abuzz following the concert. Manager Benjamin Wendelboe had made sure to invite international industry professionals, and The Bowdashes made it worth their while:
The showcase at SPOT went really well, and there was a lot of hype after the show. We made new allies in the business, and we also got to talking with David Fricke, who wrote some very nice things about us. After SPOT we released Grandeur, the first single from our upcoming album, which is still in regular rotation on the radio here in Denmark.
Live at Heart and a 3-day Swedish tour
Live at Heart in Örebro is Sweden's biggest showcase festival and industry conference. Much like SPOT, this festival stretches out across town with concerts at a variety of vibrant venues.
We played the showcase at this quirky, club-like venue. Out in the city it was all business as usual, but as soon as we stepped inside, we felt that excitement that hovers in the air at festivals. It was energetic and we played our hearts out. After the show we met with people from the Swedish music industry. My Bergman from Blixten & Co. was great, and she could really help us enter the Swedish music scene. When the timing is right, we plan to follow up on these new contacts that we've made through EXCITE.
The showcase at Live at Heart kicked off a 3-day Swedish tour for The Bowdashes, made possible through a collaboration with KulturUngdom and the Swedish EXCITE partner, Westside Music Sweden. Next, they headed to Göteborg's Waves Rolling and finally to Malmö to perform at the NGBG street festival.
We decided to take the opportunity to go on tour and to go all-in on Sweden. It was amazing to experience the Swedish music scene, which is a bit different from what we're used to back home – it seems to focus more on individual concerts, rather than festivals. We learned a lot and we hope to come back soon – with the help of Westside Music and our network in Sweden, this will definitely be possible in the near future.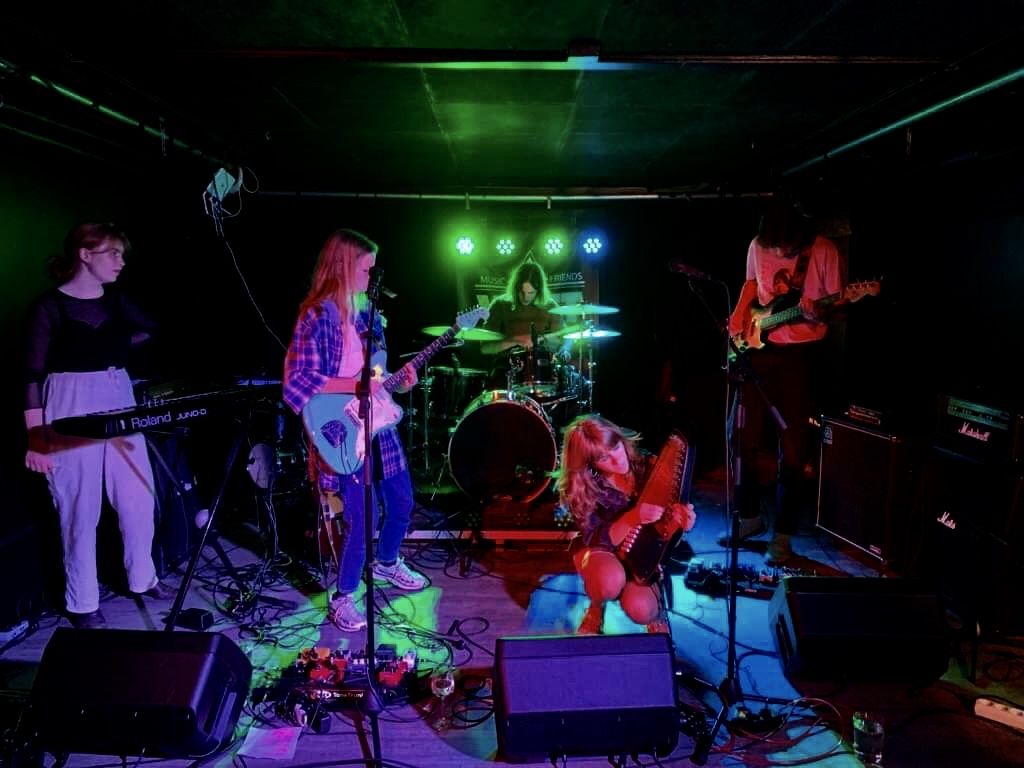 New album out in 2020
Two singles from their upcoming album, Grandeur and Naked, have already been released, harvesting critical acclaim from Danish Underground and the Swedish Slavestate Magazine.
Right now, we're working towards the release of our next album. That's our main focus, and it's very encouraging to already receive so many positive reactions to the singles and our other new material. EXCITE has been a great help, and we have lots of new opportunities to pursue in the coming year – we have a foot in the door now, and we plan to kick it wide open with the new album.
Propelled by the stepping-stones of the EXCITE project, The Bowdashes are coming into their own. Back home, this recently resulted in a special support and DJ gig at the Death Valley Birthday Bash for the major Danish rock band Psyched Up Janis.
Listen to their cover of Psyched Up Janis here.
The Bowdashes - https://www.facebook.com/thebowdashes